Uluwatu temple, Kecak dance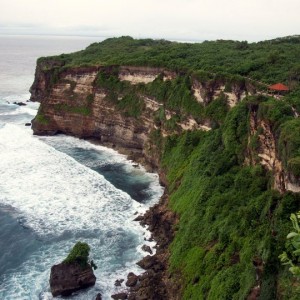 ULUWATU TEMPLE & KECAK DANCE
Uluwatu temple (Monkey temple) and Kecak dance. Pura Uluwatu is located on the cliff top close to the famous surf break on the SW of the Bukit peninsula. Empu Kuturan, a Javanese Hindu priest, founded the temple in the 10th century and a shrine here as well as at other key locations longs the Balinese coast. This rock is believed to be the metamorphosed ship of Dewi Danu, goddess of the water, and did the wandering Hindu Saint choose the place. The temple is inhabited by large number of monkeys, who are extremely adept at snatching visitors' belonging, including bags, cameras and eyeglasses.
In Uluwatu you see the Kecak dance waiting the Sunset.
KECAK DANCE
Very impressive ritual dance with circular chorus of sometimes over 100 bare chested male singers. The dance tells the story of Prince Rama and his rescue of Princess Sita, who has been kidnapped by the evil King of Lanka. After the kecak dance, an older man worked in trance performs a Fire dance. Riding a wooden horse he charges through a pile of burning coconut shells. It's a unique experience. The travel from Kubu to temple takes 3 hours so we recommend connecting it with travel to airport – best one day before departure. Later on you can explore amenity of night Denpasar.