Basic diving course - SSI Open Water Diver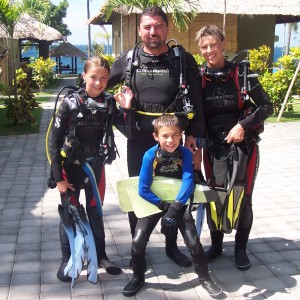 - Diving Course Open Water Diver : Goal – to teach you the diving techniques to dive 18m deep. We will guide you through the basics you need to know to explore the underwater world. Books and on-line lessons are available. You gain international diving certification OWD SSI which is accepted all over the world. Relax Bali instructors issued over 1450 of these certifications in last 15 years.
- OWD Course duration - around 3-4 days, each day we go through a part of the theory, using of diving equipment and dive in swimming pool or in the sea. We will teach zou as much as possible about diving. We know how to do it!
- What you need to entry this course – age from 10 years to ...? years /our oldest student was 64 years old in the time he was in the course/, good health condition, we recommend to visit the doctor, basic swimming skills (200 meters swimming without fins or 400 m swimming with fins, 10 meters swimming underwater).
Courses are done in English, German or Czech
Write to info@relaxdive.cz we will send you all information.