Accommodation
Resort Relax Bali equipment:
Bungalows - We can offer you 11 bungalows with 2 beds or a double bed and 1 family bungalow with 4 beds . All bungalows are located close to the beach with direct beach view.
ACOMMODATION - Homely, air-conditioned bungalows are equipped with stylish furniture, which combines tradition and modern comfort. All bungalows has its own bathroom (toilet + shower) and terrace and safety - deposit box. Deluxe part / six bungalows/ has also mini bar a semi open garden bathroom.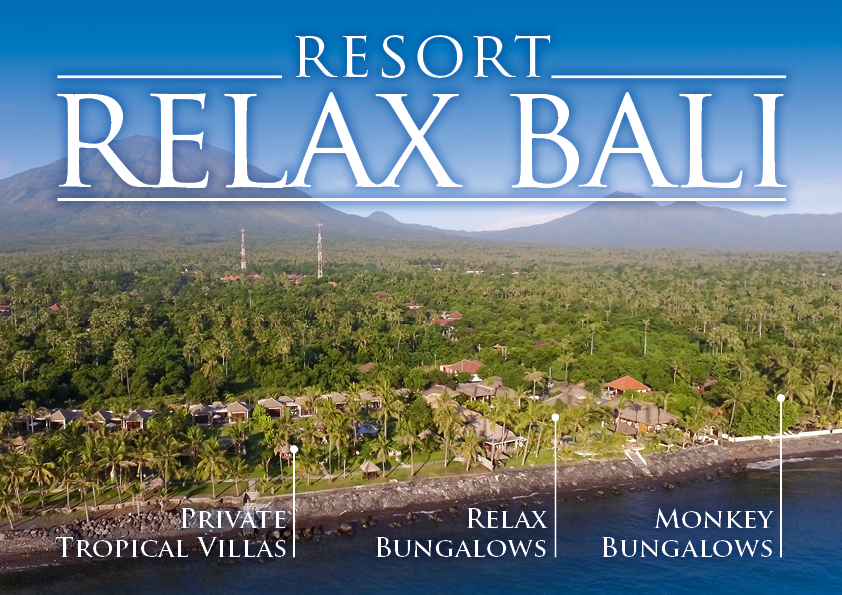 RESORT STRUCTURE:
DE LUXE - direct sea view
- terrace in front and sun beads with umbrelas next to the bungalow
- the sea is maximum 40 m from the door
- 4 bungalows has a possibility of changing 1 double bed to 2 single beds.
- 1 Family b. with 2 bedrooms is perfect for a family or friends (1 room with double bed, 1 room with 2 single beds).
- outside - semi closed bathroom with palm tree
- minibar, A/C
STANDART - 6 A/C bungalows with double bed ( or two single beds)
- direct sea view
- inside bathroom
- safety box
- outside terrase 20 m from the sea, minibar
RESORT CAPACITY
Total resort capacity is 56 person + additional bed possible. We offer also all day opened reception, restaurant with wide variety of local Balinese and international meals, bar, pool-bar, 2 swimming-pools, paddling-pool, diving base and school, diving gear renting service, car and motorbikes transport, available DVD set, Wi - Fi internet connection, relaxation centre, traditional massage, pedicure, manicure and jacuzzi.