SPA und Jakuzzi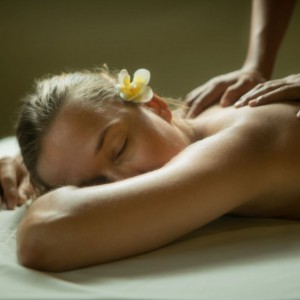 Bali gehört zu den Orten, an denen die Pflege um den Geist und Körper ein Bestandteil der Kultur und Religion geworden ist. Dies hat zur Entwicklung der traditionellen Massagen beigetragen. Relax Bali bietet Ihnen verschiedene Prozeduren an. Außer Massagen verwöhnen wir Sie gerne mit Maniküre und Pediküre. Zum Areal gehört auch ein Whirlpool mit Blick auf das Meer. Mit einem Glas Sekt werden Sie sich hier sicherlich sehr entspannt fühlen. Erfahrenes Personal kümmert sich um Ihr Wohlergehen.
1. BALINESE TRADITIONAL MASSAGE 55 minutes 356 IDR
Complete relaxation of your body and mind. 60 minutes of pampering your body with traditional massage as the aromatherapy oil calms your mind and get you to relaxation. Start with soothing footbath with sea salt and flower and continue with body massage. You are free to choose your aromatherapy fragrance.
2. BODY SCRUB 55 minutes 356 IDR
Maintaining beautiful and healthy skin is important during holiday. Traditional body scrub techniques have been secret for centuries of Asian kings and princesses. Feed your skin with all from nature and feel the fresher you. Begin with the footbath in sea salt and flower and end with relaxation in warm water shower and natural body butter. Choose of your preference scrub and fragrance.
3. BODY WRAP 55 minutes 356 IDR
An ancient Balinese treatment of getting healthy and better skin with all from nature, removes fats and unhealthy material in your body through sweats. Begin with footbath, and continue with body masking, wrapping with banana leaves and peeling with cucumber, end with shower and body lotion.
4. HAIR TREATMENT 45 minutes 281 IDR
Reduces bad effects of sun and sea from your hair and get the benefit of scalp massage for your beautiful hair. Begins with hair wash, continue with hair cream bath and scalp and neck massage and end with hair wash and blow dry.
5. BODY TREATMENT 110 minutes 494 IDR
Experience difference islands of Indonesia by finding way of pampering your body and relaxing your mind through exotic all nature body treatment secret from Bali, Java or Sumatra. Begins with footbath, massage and body masking; Balinese spices mask Boreh, Javanese yellow mask Lulur or Sumatran white mask Bengkoang. Follows by peeling, cleansing & relaxing; shower and Jacuzzi and ends with moisturizing body butter.
6. HOT STONE MASSAGE 90 minutes 406 IDR
Recharged your energy with the hot basalt stones, evaporate bad material in your body and warm up tight muscles for better and deeper tension release massage. Treatment begins with footbath, Balinese massage and hot stones treatment.
7. FEET AND LEGS MASSAGE 30 minutes 169 IDR
30 minutes massage ideally to remove tension and sores of your legs and feet from day trip and leaves you ready for your next adventure.
8. FACIAL 45 minutes 356 IDR
Thoroughly cleaning and stimulate your face skin to keep glowing in your holiday. Begins with cold towel, follows by cleaning, peeling and soothing, massage and masking. End by cleaning and cream.
9. MANICURE 30 minutes 206 IDR
Treatment for your hands and nails of cleaning, massage, nail cutting and cuticle treatment and buffing.
- With nail polish: 35 IDR
- With flowery polish (extra 30 min): 75 IDR
10. PEDICURE 40 minutes 281 IDR
Treatment for your feet and toe-nails of cleaning, massage, nail cutting and cuticle treatment and buffing.
11. SUNBURN THERAPY 55 minutes 406 IDR
A special treatment for your sensitive skin after a long sun exposure. From natural ingredient, cooling and soothing your skin and helps it back to the normal feeling only with better toning. Begin with footbath follow with cucumber/aloe masking and cold towel treatment and end with shower and moisturizing.
12. JACUZZI 60 minutes
Enjoy relaxing bath in sea view Jacuzzi alone or with maximum 4 persons of your dear ones. You may choose drinks to accompany your relaxing time:
· With ginger tea 356 IDR
· With a bottle of sparkling wine 919 IDR
SPECIAL MASSAGE
13. REFLEXOLOGY 55 minutes 356 IDR
A massage technique by applying pressure to the feet with specific thumbs, fingers and hand. It is believed as an alternative medicine.
14. LOVE & FRIENDS PACKAGE 120 minutes 919 IDR
Special package present for honeymooners, loving couples, family members and friends. Enjoy an hour of full relaxation with Balinese massage and add another hour among bubbles of Jacuzzi.
15. BUNGALOW PACKAG 1 800 IDR
A package for massage and treatment lovers. Get 6 hrs (6 x 55 minutes) of any massage and treatment for price of 5 hrs (5 x 55 minutes). You may have all massages by yourself or share it with your room partner or friends.